Bomb Pop Soap
$8.00 $8.00
This Bomb Pop Soap embodies all the nostalgic summer vibes. The long summer days, ice cold bomb pop popsicles, being on the beach or at the pool, Hawaiian tropic slathered sunkissed skin, floats, and flip flops. What a trip down memory lane! Fruity, cherry slush, with vanilla and musk notes.
Ingredients:
Coconut Oil, Ethically-sourced/Sustainable Palm Oil, Distilled Water, Olive Oil, Sunflower Oil, Sodium Hydroxide, Fragrance, Cocoa Butter, Mica, Titanium Dioxide.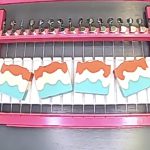 Net Weight 5oz
In stock
Only logged in customers who have purchased this product may leave a review.