Pink Beaches Soap
$8.00 $8.00
Get swept away with this exotic fragrance of tropical fruit that will whisk you away to an island getaway.  Notes of osmanthus, jasmine, vanilla and musk.
Ingredients:
Coconut Oil, Ethically-sourced/Sustainable Palm Oil, Distilled Water, Olive Oil, Sunflower Oil, Sodium Hydroxide, Fragrance, Cocoa Butter, Mica, Titanium Dioxide.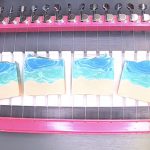 Net Weight 5oz
In stock
Only logged in customers who have purchased this product may leave a review.